About Us
Aljouf Aljadid Co. for Transportation and Oil Services is one of the most significant incorporated companies, established in the year 2007 in compliance with the Libyan Commercial Code and the legislations organizing the operations of incorporated companies.
The company is registered by the Chamber of Commerce and Industry in Misurata under the number (200) and License no (81030). Also, the company has a two branches,an office in Tripoli, Al Hani Area, Nofeleen Street.also in Jalu ,Ojla area under the No (000107)and commercial register No (03326) The company presents heavy and light land transport services from and to the various ports, work sites and oil fields all over the Libyan territory in addition to shouldering performance of the customs clearance formalities, preparation and lease of the offshore and onshore supply bases, construction of accommodation camps, sites, offices, yards, warehouses and the supporting utilities. The company also hires heavy equipment and machinery to fulfill various tasks. In addition to the provision of trained qualified manpower that complies with local and international standards.
The company provides services with trained, qualified personnel using the most modern equipment and facilities following advanced work style to guarantee quality, safety and security of personnel, environment and equipment. The company is looking forward to improve its services day after day for wider promotion and satisfaction of customers.
In reliance to firm management, distinguished factors, experience, services quality, strict time, and compliance with the principles of (HSE), Aljouf Aljadid Co. for Transportation and Oil Services realized the confidence of its customers among the major deep-rooted international companies, the matter which makes it a direction for those seeking distinguished services according to the highest levels of quality, security and safety.
NEWS

& EVENT

ISO Certificate
ISO Certificate of Registration
Read More...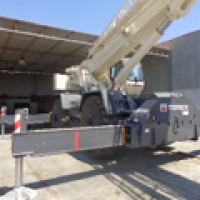 Terex RT780 Hydraulic Rough
New crane added to our company "Terex RT780 Hydraulic Rough terrain crane"
Read More...