Our Vision
Our vision for the development in our various activities is originated from our belief that we are capable to offer more in the scope of works (transport, customs clearance, oil services, construction work, logistic services), and that the most important factors of success is the existences of the proper vision and the scientifically studied planning to realize the objectives we desire to originate. We seek that our company would be the first option for those looking for distinction, and we're working hard to achieve this vision through concentration on the following points:
Concentration on training programs related to the manpower development to maximize its competence to satisfy the recent and future requirements of our customers, in addition to the concentration on the training related to occupational health and safety principles, either in direct manner or through the reliance on national and international significant institutions.

Extensive use of modern communication technology both internally between employees and externally with clients, suppliers, and subcontractors.

Adoption and application of strict and firm procedure and politics in the fields of health, safety, security and environment protection, considering it as an indivisible part of the company's various operations and activities to be seriously followed up.

Attraction and encouragement of highly qualified personnel at all levels and developing vide the extended training.

Adoption of the usage of programmed, predictive and preventive maintenance principles for all company's machines and equipment in conformity with the most modern internationally applied specifications and secure their availability using computer applications, and preserve the company's fixed and variable assets from loss, damage or negligence.
NEWS

& EVENT

ISO Certificate
ISO Certificate of Registration
Read More...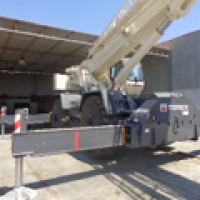 Terex RT780 Hydraulic Rough
New crane added to our company "Terex RT780 Hydraulic Rough terrain crane"
Read More...