Construction
Construction of a prefabricated building, of (1548.875) sq.mtr. and also construction of a prefabricated metal cpver, area (405) sq.mtr. over the tennis court as accompanying utilities for the first American School of Tripoli (AST) during the year 2008 according to an approved engineering studies corresponding to the highest criteria of HSE. The company exacted the civil and construction woks depending on skilled & specialized group of Libyan engineers and technicians and also the personnel of the contracting companies without any occurrence of recordable occupational injuries.

A

special department is recently originated to care for HSE affairs due to the necessity to preserve the safety of personnel, establishments and environment in addition to preparation and application of HSE affaire system in harmony with the requirements of the International Oil & Gas Production Organization and with the requirements of laws, regulation and executive decisions issued in Libya as, well.

Provision of Onshore Supply Base in favour of Petro Canada Co. in the city of Misurata with a total area of (130000) sq.mte. including all civil works, supply of soil, electric works and the civil constructions All of that in addition to the provision of machinery and all rigging & lifting equipment (forklifts, telescopic cranes ) and transportation facilities.
NEWS

& EVENT

ISO Certificate
ISO Certificate of Registration
Read More...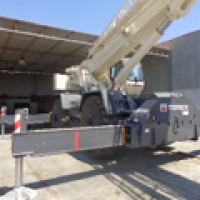 Terex RT780 Hydraulic Rough
New crane added to our company "Terex RT780 Hydraulic Rough terrain crane"
Read More...