Light Transportation
All company vehicles and trucks are provided with security and stiffness facilities as stipulated by the Libyan Traffic Law No. 1 for the year 1984 and the executive regulation thereof besides the specifications of the International Oil& Gas Production Organization in respect of Oil& Gas Production Guideline(OGP. Guideline), and furthermore all our vehicles are provided with tires of International specifications, knowing that the company never allows use of reprocessed tires for its patrol under any circumstance.

All

vehicles, machines and equipment of our own property or otherwise subject to our direct supervision, are operated by drivers who are very well experienced and trained, holding valid Libyan licenses and defensive driving permits from reputable international training centres.

It should be noted that each journey or trip type is assessed for risk exposure. Controls are then identified in order to reduce the risks As Low As Reasonably Practicable (ALARP). We measure our success by the lack of accidental loss or delay to a vehicular event.

Maintenance of all company vehicles is performed according to the programmed preventive maintenance recommended by the manufacturer. The company implemented this program since the beginning of the year 2009. The preventive maintenance programmed (PMP) records are available for any external auditor our the higher management upon request. Any vehicle shall be withdrawn from service when incompetence for running on roads is proven whether vide the report of the maintenance workshop technicians or the report of the vehicle driver himself.

All spare parts and tools needed to make maintenances and repairs are available in the companies warehouses and workshop in the headquarter in Misurata so that breakdown maintenance is carried out properly and on time.

Moreover, our Transportation and Maintenances Department implements the company's HSSE manual and polices relating to the driving in accordance to the best practices applicable in the oil and gas industry and also according to the requirements of the Libyan Traffic Law, law No 11 of 1984 and it is executive regulation

Above mentioned vehicles are operated through out well-trained and experienced drivers who are holding valid driving Libyan licenses and defensive driving permits from reputable international training organizations. Such drivers are also supplied with full Personal Protective Equipment (PPE) in accordance to the HSSE polices. Furthermore, they are fully aware of the driving polices and Journey Management (JM) procedures.

Apart from the fact that the company installed high specification devices of (GPRS), British made that facilitate the land trips follow up and the drivers behaviour towards driving in conformity with the applied International measures.
NEWS

& EVENT

ISO Certificate
ISO Certificate of Registration
Read More...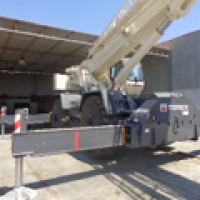 Terex RT780 Hydraulic Rough
New crane added to our company "Terex RT780 Hydraulic Rough terrain crane"
Read More...