Provision of Trained Labor

Aljouf Aljadid Co. provides trained personnel for all kinds of jobs required by Oil companies such as lifting equipment operators, slingers/riggers, banksmen site supervisors, security guards...etc.
We proud ourselves of being able to upgrade the capabilities of local employees to meet international standards in cooperation with our international partners. All of our employees are certified by reputable training providers, and most of them have worked with international Oil&Gas companies in Libya such as Woodside Energy (N.A) Ltd, Atwood Oceanics, ExxonMobil, Petro-Canada, among others.
HSSE training is of paramount importance. Ever since we started providing the (trained labor provision) service, our personnel have never experienced any recordable Lost Time Injury (LTI).
NEWS

& EVENT

ISO Certificate
ISO Certificate of Registration
Read More...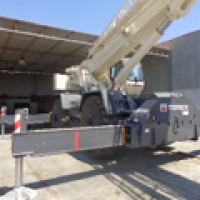 Terex RT780 Hydraulic Rough
New crane added to our company "Terex RT780 Hydraulic Rough terrain crane"
Read More...