Emergency Response Policy
It is Aljof Aljadid Co. For Transportation and oil services Policy to manage emergencies in all its activities and where possible, assist third parties. Response to any emergency shall focus on the following priorities and assist in the return to normal activities in the shortest possible time.
 Saving life and avoiding injury to PEOPLE (P)

 Protecting the ENVIRONMENT (E)

 Limiting damage to ASSETS (A)

 Preserving Aljouf Aljadid REPUTATION (R)
The Impact of this Policy is:
- Aljof Aljadid Co. shall provide appropriate facilities, procedures and competent personnel to enable immediate action to be taken to manage emergencies in its activities.
- Emergency response guidelines shall satisfy the requirements of the Libyan laws and regulations.Esp. Law No 11of1971 concerning Civil Defence.
- Systematic testing of the emergency response system shall be conducted regularly to verify effectiveness, and any identified improvement will be implemented promptly.
- Mutual emergency aid arrangements shall be maintained with our clients /subcontractors.
- Sub-Contractors shall be required to manage emergency response in line with this policy.
The Purpose of this Policy is to:
- Minimise loss through the implementation of an effective risk management and recovery process.
- Effectively manage business resumption following unplanned disruption of activities.
- Provide assurance to clients of Aljof Aljadid Co. commitment to manage emergencies in its activities.
NEWS

& EVENT

ISO Certificate
ISO Certificate of Registration
Read More...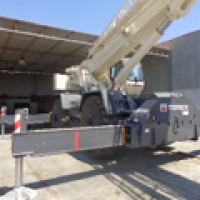 Terex RT780 Hydraulic Rough
New crane added to our company "Terex RT780 Hydraulic Rough terrain crane"
Read More...