Hygiene Policy
It is policy of Aljouf Aljadid Co. For Transportation &Oil Services to set, implement and maintain high standards of personal hygiene to safeguard the health of our Staff, Clients and Sub-contractors alike.
We are committed to purchasing only safe, establishing systems and procedures for controlling the receipt, storage, preparation and service of this food in accordance with the requirement of the relevant Libyan legislation, particularly Libyan Health Law No 106 of 1973 and it is executive regulation.
We will provide adequate facilities, equipment and trained workers to ensure that the catering facilities can be maintained in a hygienic condition at all times and that the food we supply will always be safe and good condition.
Aljouf Aljadid assigned Food handlers will be trained in good hygiene practices and they will be made aware of their responsibility for ensuring that all their tasks are performed in a hygienic manner .
NEWS

& EVENT

ISO Certificate
ISO Certificate of Registration
Read More...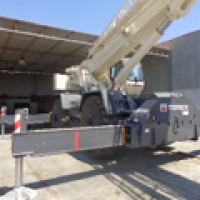 Terex RT780 Hydraulic Rough
New crane added to our company "Terex RT780 Hydraulic Rough terrain crane"
Read More...