PPE Policy
Introduction:
Our HSE policy statement states that aljouf aljadid co. for transportation and oil services is committed to continuously improve HSE performance throughout its activities, and that it accepts responsibility to do everything as low as reasonably practicable (ALARP) to prevent accidents, in support of this objective it is aljouf aljadid co. policy that a minimum requirement for the wearing of PPE is clearly stated for all work sites.
Requirements:
This policy require that the following Personal Protective Equipment (PPE) must be worn or risk assessed out on sites, at all times (helmet, high, visibility upper body clothing, safety footwear, protective eye wear, protect cloves)) when we are operating in an environment that has amore stringent PPE policy, then it is the policy of the client that our employees and sub contractors comply with the more stringent policy. Examples of such include work for the offshore area.
Provision of PPE:
Aljouf Aljadid co. will provide all of its employees with the appropriate PPE in line with this policy, at no cost to the employee. PPE will be replaced at no cost when it is worn or damaged and no longer suitable for use.
Disciplinary procedures:
Non compliance with this policy, or failure to enforce its requirements, may result in disciplinary action being taken under the company disciplinary procedures.
NEWS

& EVENT

ISO Certificate
ISO Certificate of Registration
Read More...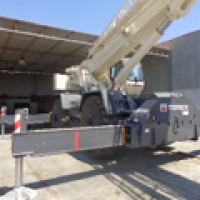 Terex RT780 Hydraulic Rough
New crane added to our company "Terex RT780 Hydraulic Rough terrain crane"
Read More...