Health, safety and environment induction policy
 All new employees of Aljouf Aljadid will read and review Aljouf's health, safety and environment policy. As well we the quality policy with QHSE manger. After completion, the worker will sign the sheet at the end of the policy-acknowledging acceptance and understanding of his/her obligations and responsibilities.
The site supervisor/foreman will complete the new worker orientation checklist with the employee before they start working at the site. The completed checklist will be submitted to the QHSE manger to be kept on file at the head office.
The site supervisor/foreman will complete the supervisor site orientation checklist before job start up. Upon completion, the copy will remain on site and the supervisor shall review the checklist items with all Aljouf Aljadid employees.
Subcontractor orientation will require the completion of a pre-job safety analysis (PSA) for each trade prior to the start of work. Aljouf Aljadid supervisor/foreman will review and accept or modify the proposed PSA as required.
The Subcontractor supervisor will then review the contents with their workers, with a copy of the final PSA signed off and kept on site.
At least once per year each manger/supervisor will review the orientation policy and procedures with the HSSE manger.
NEWS

& EVENT

ISO Certificate
ISO Certificate of Registration
Read More...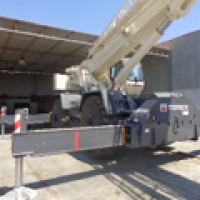 Terex RT780 Hydraulic Rough
New crane added to our company "Terex RT780 Hydraulic Rough terrain crane"
Read More...