Quality Assurance Policy
Aljouf Aljadid co. for transportation and oil services is aware of the importance of quality assurance in all aspects of its activities and in particular, places emphasis in obtaining clients satisfaction by the provision of services which comply with the specific requirements, on time and at a competitive cost.
To meet this aim, Aljouf Aljadid co. has adopted a systemic and organized approach to quality management to ensure that the client's requirements are clearly identified and satisfied throughout the execution of the work.
All Aljouf Aljadid co. employees is inviting to contribute to the overall process which creates the services that are provided to our clients. and thus each employee can influence some part of this process.
Each employee is both a supplier and recipient of work, and as consequence have both an obligation and aright to provide and accept quality of work, to and from other employee.
It is, therefore; the policy of Aljouf Aljadid co. to establish and maintain an effective quality of our services to the local/ international oil companies operated in Libya in line with principles and requirements of iso 9001:2008. Quality objectives shall be set annually by management, and the progress of the company against these objectives will measured and reviewed on a quarterly basis by top management.
Every employee has a responsibility to implement the quality policy in all aspects of their work through the adherence the requirements of the quality manual, procedures, work instruction, forms…..etc
Aljouf Aljadid co. is committed to ensure that this policy is implemented at all levels of the company, to maintain and continually improve the quality of its services, as well to continually improve the applied QMS.
This policy will be reviewed on periodic basis for continuing suitability.
NEWS

& EVENT

ISO Certificate
ISO Certificate of Registration
Read More...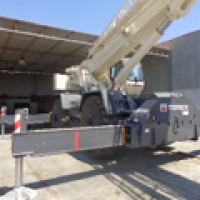 Terex RT780 Hydraulic Rough
New crane added to our company "Terex RT780 Hydraulic Rough terrain crane"
Read More...